My last post is now on The Innovative Educator. Lisa Nielsen is becoming one of my favorite people in the world. And I'm meeting her in person tomorrow. Which is decidedly social.
I said in the last post that I feel like a social failure sometimes, because I am bored by groups of people, and I am content to be alone.
A reader (TheBanjer, from Romania) commented: Yeah, I guess that's the main difference between homeschoolers and.. um, non-homeschoolers. For us, former high school kids, being alone feels a bit wrong sometimes, like we've failed or something, even if we know – rationally – that it is, in fact, not a big deal..
And in response, I want to add that I also feel like I've failed when I'm alone. But I feel like I've failed not because I'm alone, but because I want to be alone. As though my brain is wired incorrectly.
Everyone in the world has one question for homeschoolers. And that question is, "What about socialization?"
As a homeschooler, I had one main answer. Which was, "Hell yes! I do it ALL the time!"
My mom wanted me to do it all the time. She suggested that I invite friends over. She brought me to groups and signed me up for groups and made me go back to groups. She even formed groups for me to participate in. My mom is a very social person. She loves hanging out with other people. She has been leading groups for most of her life, and throwing parties, and inviting people over for dinner. She is a great coordinator of people.
I am not. I'm more like my dad in that way.
But because I was homeschooled, it wasn't enough for be to be more like my dad. It was important that I prove that I wasn't a failure. That I was normal. That homeschooling had given me all the right opportunities.
When I went to college, I felt like I had to report back with a bunch of friends right away. I didn't want to be friends with any of the girls who lived on my freshman floor. When they hung out in my room, I secretly hoped they'd leave. I felt no remorse about not getting along with them. But I wished that I could take five of them home with me, to prove to my mom in one giggling, girly fell swoop that I was a social success, and then go back and dump them at a frat house while I went off to read by myself.
It isn't that I don't ever like to be around other people. I've always had a boyfriend (which is another issue entirely), a handful of close friends, and a larger, vaguer circle of people who seem undeterred by my rejections and text me anyway to see if I want to hang out.
But for most of my life, I haven't felt like trying very hard to make sure I have the proper number of friends. And I understand that it's the missing desire that makes me odd.
I still feel that urge to prove to the schooled world that homeschoolers are just like everyone else. We have all the same dreams and goals and successes. We can do everything you can. We want to do all the same things that you want to do.
Except that I don't. So I feel guilty, and I get a little more social with time. Sometimes I catch myself thinking, "I really want to hang out with some people tonight." Which makes me wonder what I've become. I'm twenty-four. I've been to college and grad school and I live in Manhattan now. I'm influenced by my environment. My homeschooled self adapts, and sometimes gives way. Who knows. Maybe one day I'll throw a party.
Ugh. Maybe not.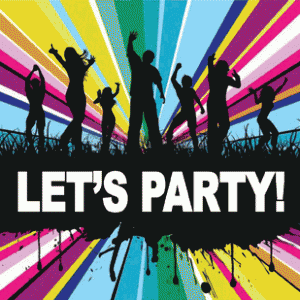 (who could resist? source)
*  *  *  *
Wild fun list: Run down the street. You get where you're going faster, and people look at you and wonder about you and it's very freeing.