I'm not going to lie– I think it's weird to hang out with a bunch of people exactly the same age as you all the time. And I think it's weird because I didn't have to do that. Most people think it's normal. And they think it's weird to hang out with people who aren't exactly the same age as you. Especially if you're a kid.
When I was sixteen, my circle of close friends included a woman in her fifties, a woman in her forties, a woman in her eighties, and a girl who was ten. It also included some sixteen and fifteen and seventeen-year-olds. It also included my brothers. But I was careful not to call the ten-year-old my "friend" in mixed company. Or the eighty-two-year-old. Because then I might have to explain my life to everyone. And that gets annoying.
(my youngest friend and I. I think she's 13 or so here. Kaila– you owe me a guest post!)
And then sometimes I called them both my friends in public anyway, defiantly, just because I could. That'll show them! That show the whole world. Yeah, I was a rebel.
I think it's a little weird to hang out with people without getting to know their families. I mean, it's fine and everything…But I'm going to want to meet your mom at some point.
My friends always came with their siblings. I was always friends with both sisters, and on good terms with the younger brothers. Often I was friends with the girl and one of my younger brothers was friends with the boy and we all hung out. Which is part of why no one could ever play spin-the-bottle, come to think of it.
I was friends with the moms. Some better than others. The dads and I got along.
But some of my closest older friends were from the writing group I joined when I was fifteen. We got together at the Arts' Council and workshopped pieces every week. Which is why my name is in the acknowledgments section of a very successful book called Dough, written by a really sweet guy named Mort whose chapters I helped critique every week for years and years. (He didn't mention me in the NPR interview, but I was very understanding about it.)
I was writing a dorky fantasy novel about a queen named Relle who is one of the most powerful mages in the world. She is not allowed to fall in love (it's this big law in that place that has a lot of complicated explanations and a long history), but she does. And with a servant. Who is also a giant. Who is really, really cute. And then he gets kidnapped and she has to go rescue him. Very dramatic. Anyway, my fifty-year-old friends listened patiently to me reading all that aloud. And they told me I was great. And some of us started hanging out outside of class. And everyone assumed I was with my mom or my grandmother. But I wasn't.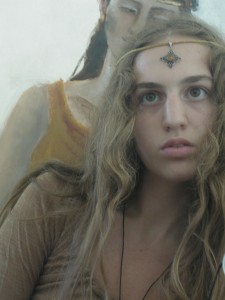 (me, at sixteen, dressing up as Relle, with a painting of her in the background. making a stronger case for homeschoolers being really weird.)
They were my friends. My good friends, who I confided in. Who I learned from. I wouldn't have traded them for another fifteen or sixteen-year-old for anything. Not even a Tor book deal. Well, maybe that. But probably not.
Irene, who was the oldest of my friends, died a couple of years ago. It was terrible and strange. My friends aren't supposed to be dying yet, right? She had the most amazing stories. Each of her children were born in a different country. Her husband had been a diplomat. He was assassinated in Lebanon. She barely avoided the explosion. It was something simple, like a forgotten purse. She wrote everything down. She hated water. She only wanted to drink things with flavor. She was a proud atheist, with a Jewish background. Her thick white hair stuck straight up, and she was fearless and awesome. Sometimes members of the Russian mob showed up at her house and she served them tea and they all just chilled.
It wasn't a cliche– I loved to listen to her.
Who wouldn't want a friend like that?
And all this is not to say that kids who go to school don't ever make friends with people of different ages. But, too often, there just isn't time. And it would be weird. Just like it'd be weird to hang out with your sibling at school. Especially if they're younger. That would be weird.
So many of the good things in life are the things that a lot of normal people think are weird, I guess. Not pizza, though. We can pretty much all agree on pizza.
I wish we could all agree on Irene, too. Because she was worth it. And a few other kids probably could've benefited a lot from making a friend like her.
(she was always drinking iced tea. source)
P.S. The friends I make now tend to be older than me. Sometimes people tell me this is called "networking." It works either way.