I started tutoring twelve-year-olds when I was fifteen. I took it very, very seriously. I spent a lot of time thinking about my technique, methodology, and effectiveness. I wrote in my journal about whether or not I thought my students were learning everything I wanted them to learn. I was nervous. I was afraid I might fail them. Around my seventeenth birthday, I had an epiphany. It felt big, at the time, like all of my seventeen year old epiphanies did.
I told myself, "If I know even a little bit more about something than someone else, I have something to offer that person."
I didn't have to be brilliant, or masterful, or even totally thorough. I just had to know something, and be able to convey it to someone else. And I had to be nice while I was conveying it. Otherwise everyone had a lot less fun.
My  students loved me. I was an awesome tutor. I mean, that's what they said. Once I was talking with a parent in the hall, and two girls were coming around the corner. One of them said to the other, "Do you have Kate? She's awesome." I felt like I was the coolest person in the world.
And then I subbed for an actual class. You know, with more than one kid in it. I made a joke about going to the mall– maybe it was a clever analogy ('cause I'm so clever)– and a girl said to her friend, "Looks like she hasn't been to the mall in a while."
I couldn't believe it. A little kid thought I was lame. She thought she dressed better than me. Which was actually true. But still.
The class was loud. I had to separate two of the boys, who were butting desks like bulls. I felt helpless and outnumbered and like I might start yelling really soon.
My students thought I was annoying. I was a bad teacher. Clearly.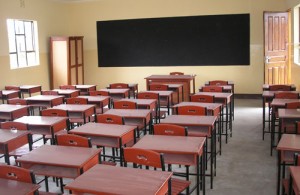 (When I taught a 3rd grade class for a semester, I got intimidated every time I looked at the desks lined up. So many kids! source)
Of course, there are libraries full of classroom pedagogy. There are degrees that people get that focus exclusively on the art. There are theories and age-old debates and schools that pioneer new approaches. Everyone seems to have an opinion on classroom instruction.
I was at an Ed-chat meeting at Lisa Nielsen's home a few months ago. She invites educators and people like me (who have a lot of opinions and just about zero official expertise on the subject) over every so often to debate and eat and do a somewhat awkwardly spontaneous podcast (if you ever find the one I'm in, please don't watch it. I sound idiotic for at least the first ten minutes).
At some point, all of the teachers were commiserating on how difficult and frustrating their jobs can be, and how many missed opportunities they feel they have. This kid had a lot of potential, but got lost in the group. These kids were interested in a project, but it got shut down when they had to study for a major annual standardized test instead.
One teacher had a different story. She kept shaking her head and saying, "No, no. I've seen so much improvement. I've seen so much growth." And, she added, she works with the "problem kids." Kids from impoverished households who are acting out in class. Kids who have been given up on already.
Several of the other teachers became confused. Was she just bragging? No one has a magical secret silver bullet, really. What was this lady's deal?
And then she mentioned that she taught one-on-one.
Everyone breathed a collective sigh of understanding. Well, OF COURSE they're improving! With all that individual attention! HOW COULD THEY NOT? (And why didn't you mention this before? Sheesh.)
The conversation continued, the mystery was solved, and no one seemed incredibly interested in her input anymore.
Individual instruction. Works like a charm. Practically every time. Works so well there's almost nothing to say about it.
Kinda interesting.